The Benefits Of Roof Cleaning For Your Huntersville Home Or Business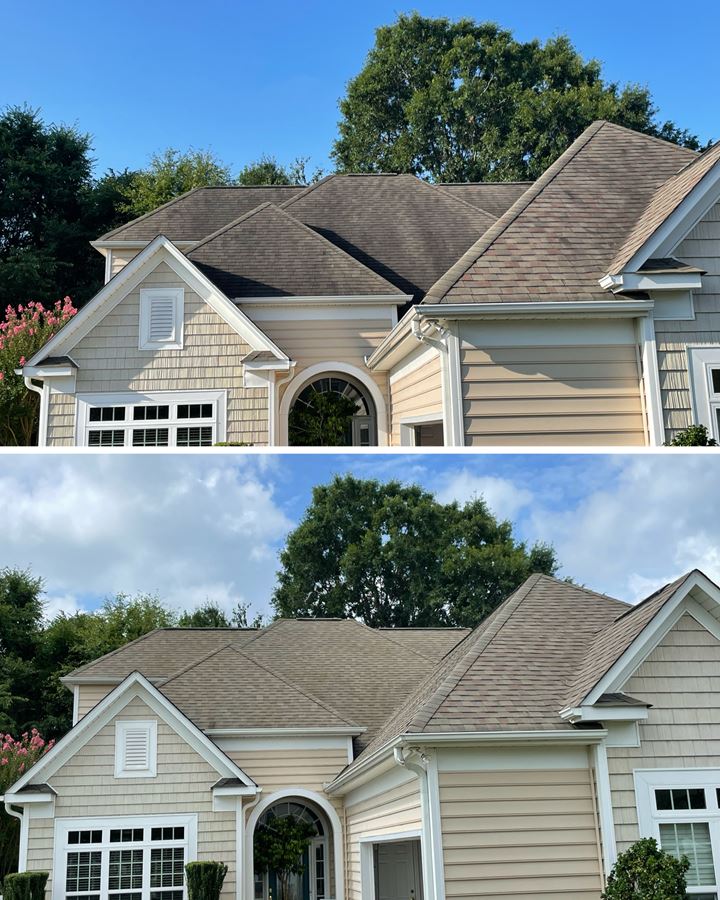 The best roof cleaning services in the Huntersville area can be done by our team here at We Clean Holmes. What we do here is offer the best possible pressure washing services and results that you need and deserve in order to preserve your exterior surfaces.
Roof cleaning is simply one of the many residential pressure washing services that we offer. All of our services are designed to cleanse and preserve the exterior services on your property. In addition to services such as driveway cleaning and house washing, our business also offers commercial pressure washing services for property owners in the Huntersville area.
Soft Washing Roofs For Total Property Maintenance
The key technique for pressure washing roofs is to use soft washing practices. Roof cleaning means dealing with shingles, and those shingles are not necessarily up to withstand the pressures of pressure washing. This is why we use soft washing so as to not damage the roof and the shingles on it.
Soft washing is equally effective at removing stains and dirt as pressure washing is. You will be sure to have a roof that shines and gleams under the sun and that you can be proud of.
Roof Soft Washing To Best Maintain Your Curb Appeal & Property Health
With constant exposure to the elements, your roof can suffer a lot of wear and tear and degradation in its appearance. This is why we offer roof cleaning as an alternative method of replacing and maintaining your roof. Cleaning your roof can do wonders to preserve and protect its integrity.
Cleaning it uses the best of pressure washing and soft washing techniques to remove all sorts of grime, stains, mud, dirt, debris, and anything else that collects on your roof. In the end, you will have a roof that is healthy, clean, and protected.
So if roof cleaning is something that you need, and we do recommend all homeowners invest in the service at least once per year, be sure to contact our team today so that you can get the best results and care for your roof and home here in the Huntersville area. Contact We Clean Holmes today!
READY TO RESTORE YOUR PROPERTY? CONTACT THE TOP-RATED HUNTERSVILLE AREA PRESSURE WASHING COMPANY TODAY!